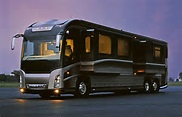 "We wouldn't go back to that other life for anything….
The freedom we have is simply amazing. And while we still deal with everyday life, there is serenity all around us. It's a slower pace, a simpler life, and we are much more deeply connected and happy."
— Howard Payne, Full-Time RVer and RV Freedom Now Story Contributor
If you are dreaming of a Full-Time RV Life
It's time to stop dreaming and take action!

The worst thing you could do is to get off on the wrong foot. Bad decisions will cost you time and money, not to mention headaches. RV Freedom can help you make the right choices and avoid costly mistakes~!
Discover the 10 Steps You Need
to Live the Ultimate RV Lifestyle     

Pros and Cons to selling your home.
How to avoid mistakes that are very costly.
Where is the internet while traveling.
How much Money will you need.
Storage decisions
Don't overpay for mail and fax services.
The right way to downsize.
Costly mistakes that people make and how to avoid them.
RV decisions-What you need for your lifestyle.
Easy way to cut down communication costs.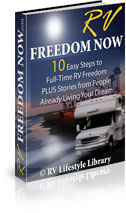 Having this information is going to give you peace of mind in making better decisions.  You can really benefit from all of this research and have it all in one place. Having a check list and information from people that already "live the life" is very valuable.  You will be on your way quickly to stress free living!  The best thing is, if you don't feel this will help you they offer your money back without any questions.   I don't know about you, but I would look forward to have so much adventure in life.  Meeting new people, having new experiences, no stress-who doesn't want a life like this?
          Choose RV Freedom and You Can Live Your Dream NOW…